Fracht Australia News - March 2016
1/3/2016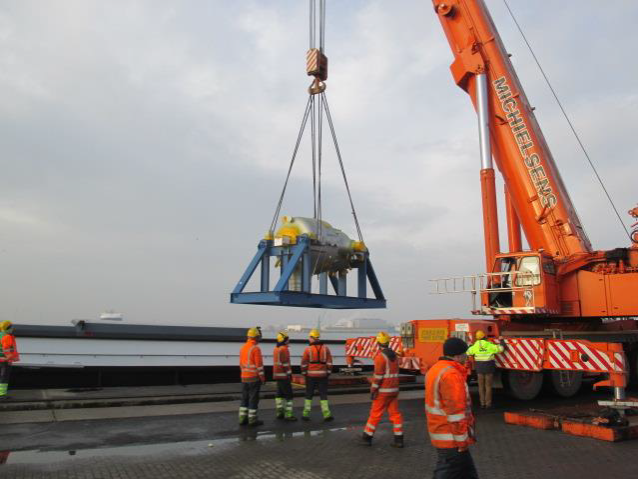 "If you have something to do that is worth doing, don't just talk about it, but do it. After you have done it, your friends and enemies will talk about it."
George W Blout
AROUND THE WORLD
CATEGORY 5 CYCLONE WINSTON produced wind gusts up to 325 km/h when it hit Fiji on 21 February. At the time of printing this newsletter the death toll reached 42, many villages were wiped out completely and a lot of infrastructure was severely damaged. The cyclones caused some disruption to service schedules of South Pacific shipping lines but the two main ports, Suva and Lautoka soon returned to normal operations. It was quite the opposite for the Fiji inter-island fleet which was devastated by the Winston. Most of the ferries were beached or capsized and wharves were destroyed by heavy waves. It'll be several months to get inter-island services back to normal.
FRACHT COPENHAGEN MOVED TO NEW PREMISES: Fracht Denmark A/S, Langebrogade 5, 3.41, DK-1411 Copenhagen K, Denmark - T +45 4717 2666, E info@dk.fracht.com
LAST MONTH WE REPORTED THAT SHIPPING LINES ARE STARTING TO CALL IRANIAN PORTS AGAIN after the recent lifting of UN sanctions. Meanwhile some of the world's biggest shipping lines including MSC, CMA CGM and also UASC (United Arab Shipping Corp.) have resumed sailings to Iran. UASC is owned by the governments of Qatar, Saudi Arabia, UAE, Bahrain, Kuwait and Iraq.
AIRFREIGHT NEWS
QATAR AIRWAYS COMMENCED A NEW B777 NONSTOP STERVICE BETWEEN DOHA AND LOS ANGELES in January. Los Angeles is the 8th US destination for Qatar Airways. New services are planned to Boston in March and Atlanta in June and a second daily flight to New York will commence in April. This will increase overall cargo capacity to / from the USA substantially.
SINGAPORE AIRLINES WILL LAUNCH THE "CAPITAL EXPRESS" in September with four B777-20 flights per week from Singapore to Canberra and Wellington. Singapore Airlines will be the first international carrier to operate regular scheduled flights to Canberra.
CHINA SOUTHERN COMMENCED A NEW SERVICE TO AUSTRALIA on 28 January offering three weekly A330-300 flights between Shenzhen and Sydney.
THE ICAO (INTERNATIONAL CIVIL AVIATION ORGANISATION) GOVERNING COUNCIL PROHIBITS THE CARRIAGE OF LITHIUM ION BATTERIES on passenger aircraft. The ban will go into effect on 1 April 2016. The decision pertains to Lithium ion batteries shipped as cargo and not those contained in personal electronic devices carried by passengers.
ACCORDING TO ITATA STATISTICS INTERNATIONAL AIRFREIGHT GROWTH WAS SLOWER IN 2015 THAN 2014. For the whole calendar year 2015 international freight grew only 2.5% and the Asia Pacific region achieved only + 2.2%.
SEAFREIGHT NEWS
MSC HAS IMPROVED CONNECTIVITY WITH EAST AFRICA by introducing calls at Salalah and Djibouti on its Australia Express service. The new rotation now stands as follows: London, Antwerp, Le Havre, Fos, La Spezia, Naples, Gioia Tauro, Port Louis, Reunion, Sydney, Melbourne, Adelaide, Fremantle, Singapore, Colombo, Salalah, Djibouti, King Abdullah, Valencia, London. The addition of Salalah will allow connectivity to a range of East Africa countries.
VERIFICATION OF CONTAINER WEIGHTS WILL BECOME MANDATORY on 1 July 2016. The IMO (International Maritime Organisation) passed an amendment to SOLAS (Safety of Life at Sea) requiring verification of container weights, Containers will no longer be allowed to be loaded on board a vessel unless its Verified Gross Mass (VGM) has been provided by the shipper named in the Bill of Lading. In Australia the enforcement of SOLAS will be governed by AMSA (Australian Maritime Safety Authority).
A RATE RESTORATION PROGRAM HAS BEEN ANNOUNCED BY SHIPPING LINES from Korea, Hong Kong, China and Taiwan to Australia effective 1 April 2016. The planned increase is USD 300.00 per TEU (twenty foot equivalent unit).
HAPAG LLOYD WILL INCREASE THE ORIGIN TERMINAL MOVE CHARGE (TMO) for all containers from the USA to Australia / New Zealand by USD 50.00 per TEU on 15 March.
CHaFTA – CHINA AUSTRALIA FREE TRADE AGREEMENT
To enjoy duty free import into Australia a "China Free Trade Certificate" is required. This certificate must contain the Australian Customs HS Code and must also have a numerical link to the shipment. As there can be variations between the Chinese and the Australian HS codes, we strongly recommend that a draft copy of the certificate is forwarded to the customs broker prior to issuing the final certificate.
If your exports from China are shipped via Hong Kong, the importer has an obligation to ensure that goods transiting, transshipping and warehousing through Hong Kong do not undergo any operation other than unloading, reloading, repacking, relabeling for the purpose of satisfying the requirements of Australia, or splitting up of the goods for further transport, temporary storage or any other operation that is necessary to preserve the goods in good condition. Documentary evidence that can demonstrate that goods that have been through Hong Kong are compliant with Section 153ZOI of the Customs Act can be requested by the Department of Immigration and Border Protection.